11 Oct

Sir Richard Branson Figured This Out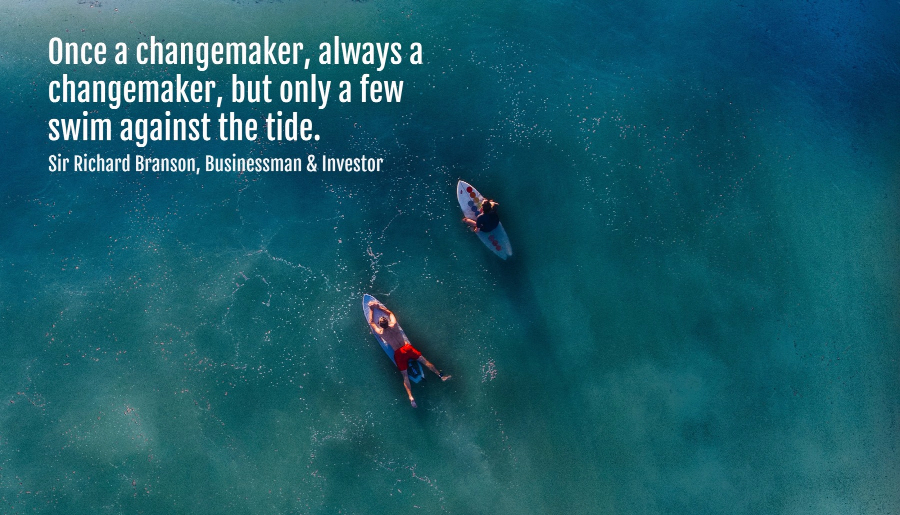 Last week I officially launched my new website. In that note I shared the many different paths I've gone down to reach this announcement. Some paths were quite winding and others were like major highways that could be sped down.
As I noted, it's been uniquely my story and it forms the bedrock of my rebranded business. It's a foundation of awareness. The awareness that much of what I do in my work touches my time when not in the office, and vice versa. I want it this way because it brings strength and fulfillment to my choices.
And that's what Richard Branson figured out. That work and life is intermingled and if done consciously it will build what he identifies as his business – a 'way of life brand.'
Ch-ch-ch-ch-changes
About 18 months ago I realized that I wanted, maybe even needed. to change things up in my business, but I just wasn't sure what that was. I was feeling at loose ends and by the summer of 2016 I heard myself telling others that I was willing to start all over again with a totally new business focus and brand.
Yikes. What the heck was I thinking?
It was, really, pretty simple. I intentionally sought change. I wanted and was ready to move forward, do something different and positively alter how I worked. I sought to find within my professional experiences what both 'jazzed' me and had the greatest impact. I sought within my personal life, the happiest and most fulfilling times. I looked for the juncture of these for there I knew I would find my next beginning.
It would be my 'game changer.'
But here's the thing.
I realize that with over 35+ years of experience I'm good at what I do. Clients will tell me this, too.
I like being able to look at a problem and find a solution that not only addresses the problem but even goes beyond to find or suggest new ideas, strategies or approaches to other parts of a client's business.
So core services I've offered for years didn't really have to change. What, then?
Ah, ha! The second realization became apparent. It's how I want to focus in on offering those services – building brands and businesses not from a more narrow, current perspective but rather from an all-encompassing perspective starting in the past.
Find the personal narrative and stories that reinvigorate the message and inform the total business.
Conscious, Deliberate Evolution
Too often we rush to make changes because others tell us it's the thing to do, and to do it now.
But I want to tell you to instead consciously evolve into a company that brings the best of all of you, your staff and your experience to create a business that moves forward with the intent to influence and impact others through personal, emotional and memorable experiences and connections.
Because you want to. Because it feels good. Because your clients are looking for this.
This evolutionary work is about taking the time to step back to look at the past and then look at the present to unearth that which is unusual yet familiar, personal yet universal, radical but expected. It's about going beyond just credentials, skills, products or services. It's about remembering unforgettable experiences or connections that will last and last, and bring both excitement and rewards.
Frame Your Whole Self
It is about creating Branson's business model, a 'way of life brand' in which there's an easy interwoven theme of you and what is important to you. So now, in my work it's about finding the ways that we can 'frame your whole self ' in how you show up and do for others.
This is not easy work. It can be uncomfortable at first because it requires stepping beyond the normal sight lines for making business changes, i.e. mission statements, systems, processes, financial reports, sales quotas, etc.
What I am asking you to do is to move forward with a conscious effort at looking back to find the story that is you … today.
It may seem like a fanciful flight of whimsy but it is not, I assure you.
Do this and you will experience your true voice and message, and those you want most to listen, will.